Thanks to Henning Küppers for introducing me to John Townley and Jay Ungar. There will be radio special with Jay Ungar's music soon.
For John Townley: Blog
Jay Ungar was born (1946) in the Bronx and Greenwich Village was his home turf during his youth in the 60s. It's there where he met John Townley, where he spend most of his time in those now legendary folk clubs. While he had been trained classical violin as a child he abandoned string instruments. But hearing bluegrass music converted him to fiddling forthe rest of his life. There he met John Townley who increasingly shared his interest in electrified old timey music.
Apostolic
With John and his future wife Lyn Hardy Jay was part of two bands/recordings as Family of Apostolic and Ocean (for more information: https://norbert-knape.de/?p=444)
Cat Mother and the Allnight Newsboys
Cat Mother and the Allnight Newsboys was a rock band from NYC. They became wider known through a rock n'roll top twenty hit and an album produced by Jimi Hendrix. Jay joined them before their second album on a permanent basis and brought some of his more country oriented songs to the band. By the time of their second album Albion Do-Wah they settled in the Mendocino area. Albion Do-Wah is one of the earlier lps to blend rock and country and it features Lyn Hardy's vocals on two songs. The record featured some really good songs but was a commercial failure nevertheless.
J
Jay Ungar's delightful song Strike a Match and Light Another goes like this:
In the first days of this country when the buffalo roamed the land,
All the saddle tramps and cowboys used to roll their own by hand.
Well they'd swing up to the saddle on their ass or on their horse
And recite a little ditty that went like this of course.
When your feet are in the stirrups and your ass is on the ground
Cause the grass that you's been eating is the finest stuff around
Well let us not remember boys and let us not forget
Strike a match and light another marijuana cigarette.
For a band that had shared the stage with the likes of John Lennon one successful album was too little to build a future and they continued with a different line-up on a different level until 1977.
A review of their excellent second lp you may find here: http://michaelsmusiclog.blogspot.com/2013/06/cat-mother-and-all-night-newsboys.html
Jay Ungar & Lyn Hardy
Jay turned professional with the Putnam String County Band from Hudson Valley. In 1974-75 he toured with David Bromberg and together they released two LPs. After that he concentrated on touring and recording with his wife Lyn. Together they have a daughter named Ruth. They toured northern England and Scotland with the Irish band Boys of The Lough. From them he learned about Irish music and the difference to American.
Fiddle Fever
Fiddle Fever was Russ Barenberg, guitar, fiddle, percussion, mandolin; Matt Glaser, fiddle, piano; Molly Mason, vocals, bass, guitar; Evan Stover, fiddle, viola and Jay Ungar, fiddle, mandolin. They recorded two albums for Flying Fish in 1981 and 1984 (Fiddle Fever and Waltz Of The Wind). Waltz Of The Wind is mostly known for the first appearance of Ashokan Farewell (Jay's most famous song).
Songs stretched from bluegrass and traditional folk music to Cajun two-steps and Western swing. Waltz Of The Wind even included a heavily atmospheric instrumental, "Icelandic Hymn," based on a melodic theme by Icelandic composer Thorkell Sigurbjornsson. They lastet for four years and disbanded when Barenberg moved to Nashville.
Jay Ungar & Molly Mason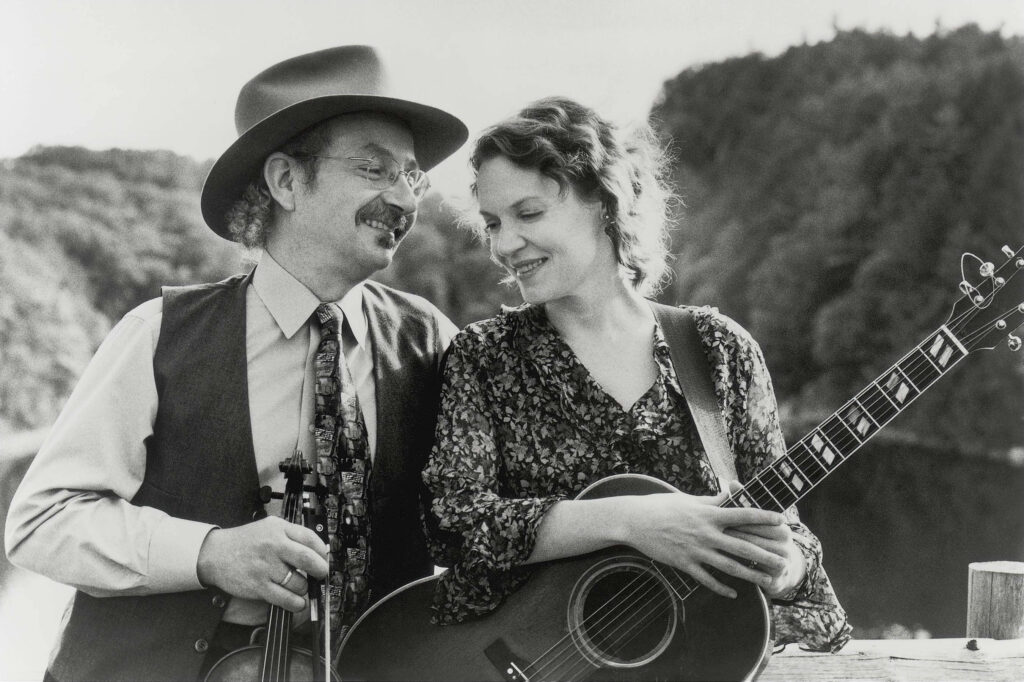 After the end of Fiddle Fever Jay and Molly married and started a musical collaboration which lasts till today. As a duo they form the band Swingology and the extended family plays together as the Jay Ungar and Molly Mason Family Band (incl. daughter Ruth and her husband Michael Merenda).
Jay and Molly had so many musical activities and created so many good LPs that I recommend their site: https://jayandmolly.com/
One record recommendation: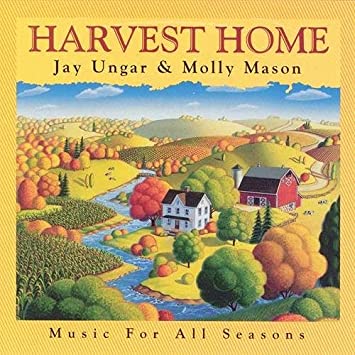 Harvest Home was an album released in 1999. Small folk groups and the Nashville Chamber Orchestra combine moments of intense joy and love, and also times of horrible anguish and tears. Theme is the seasons and labor of farm life. Main part is the Harvest Home Suite with Chamber Orchstra moving from summer to spring and the emerging life of the prairie fields. The finishing Barn Dance praises another successful year.
are portrayed and echoed in this musical score and the playing, particularly of Jay's fiddle, and also with Molly's singing. It is a tremendously moving piece at both a very primitive and a very cerebral level, effectively fusing the folk tradition with orchestral music. It is a celebration of a simpler and more natural time involving communities that were in touch with the cycles of nature and with each other. The musicianship on this disc is absolutely stellar, whether it is the smaller groupings of the folk musicians or the Nashville Chamber Orchestra conducted by Paul Gambrill. There are many shifts and changes in the music, and nary a step is missed in whichever format is used. The hauntingly beautiful waltz "Prairie Spring" closely mimics the coming of spring to the open Western prairies in its changes. There are too many special moments here to single a few out however I am going to mention "La Chason De Mardi Gras (Song of Fat Tuesday)," a traditional song from Cajun country in southwestern Louisiana. Here Jay and Molly use musicians from the stellar Cajun group Balfa Toujours to fullest advantage. Thanks to Angel Records for putting out this strongly recommended release. Jay and Molly, Jacquelyn Schwab, and Paul Horn are among the few who consistently put out music played straight from the heart.
President's Man
In Jay Ungar's words (https://meandthee.org/OldSite/blog/txp/quick-q-and-a-with-jay-ungar)
In the 1990s Molly and I performed at the White House for President Clinton with Jacqueline Schwab, Matt Glaser and L. E. McCullough when Ken Burns previewed his film, Lewis and Clark in the East Room. At the reception afterward, we musicians were standing together and President Clinton, who'd been circulating among the guests, drifted over and began talking with us about music. We must have been monopolizing his time, because someone eventually guided him away to speak with actual dignitaries. The Lewis and Clark Expedition was planned in the East Room and essentially ended there. Many historical treasures were on display including journals, plant and animal specimens and much more. It was an unforgettable day.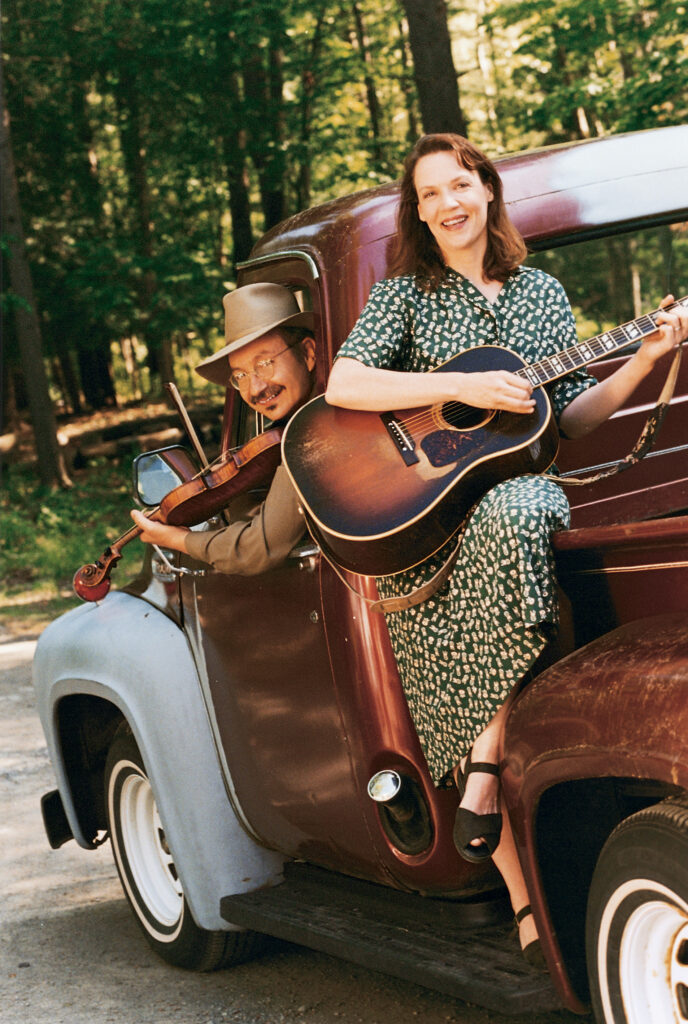 More recently we had the honor of returning to the White House on St. Patrick's Day '06 to perform with flutist Sir James Galway for President George W. Bush and about 300 guests. We recorded a CD with Sir James in 2001 and love working with him. As we were announced and began moving towards the stage, my mandolin strap caught on a piece of furniture and the instrument banged harmlessly, but noisily against a table top. Everything stopped for what was probably a second, but felt much longer, as all eyes, including the Secret Service, were on me. I said, "Everything's OK!," as clearly and calmly as I could and people seemed to relax. The performance went on was well received by all. Whew!
We also had the great pleasure and honor of performing for President and First Lady Carter with my daughter Ruth and son-in-law Mike Merenda. It was a concert at the Springer Auditorium in Columbus, Georgia and the Carters were in the audience. During the intermission the backstage door opened and six people in black suits entered and lined the walls. We didn't know what to make of it till the Carters entered the room. We had a nice long chat. What gracious and fascinating people.
Ashokan Farewell
The tune was inspired by the fiddle and dance workshops conducted by members of the group at the Ashokan camp in New York's Catskill Mountains. In 1982 it was the third Ashokan Song and Dance Workshop and when Jay left Ashokan he became kind of sad and this tune was the result. Ken Burns heared it on the Fiddle Fever album loved and wanted to use it.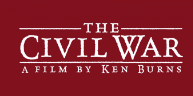 So Jay Ungar created a new version for the "Civil War" PBS series and it became the main theme for the films. In addition to that Jay Ungar played mire tunes which would be used in the documentaries of Ken Burns.
Jay and Molly in an interview about the music in "The Civil War".
Ashokan Farewell became so famous that many thought it might be a traditional or Jay Ungar based his song on an old one. But indeed it is a Ungar original.
Beautiful Dreamer – Songs of Stephen Foster
After signing with Angel Records in 1991, Jay and Molly—in collaboration with baritone Thomas Hampson and pianist David Alpher—released American Dreamer, a collection of the songs of Stephen Foster. A radio special on Stephen Foster from 2013.
Ruth Ungar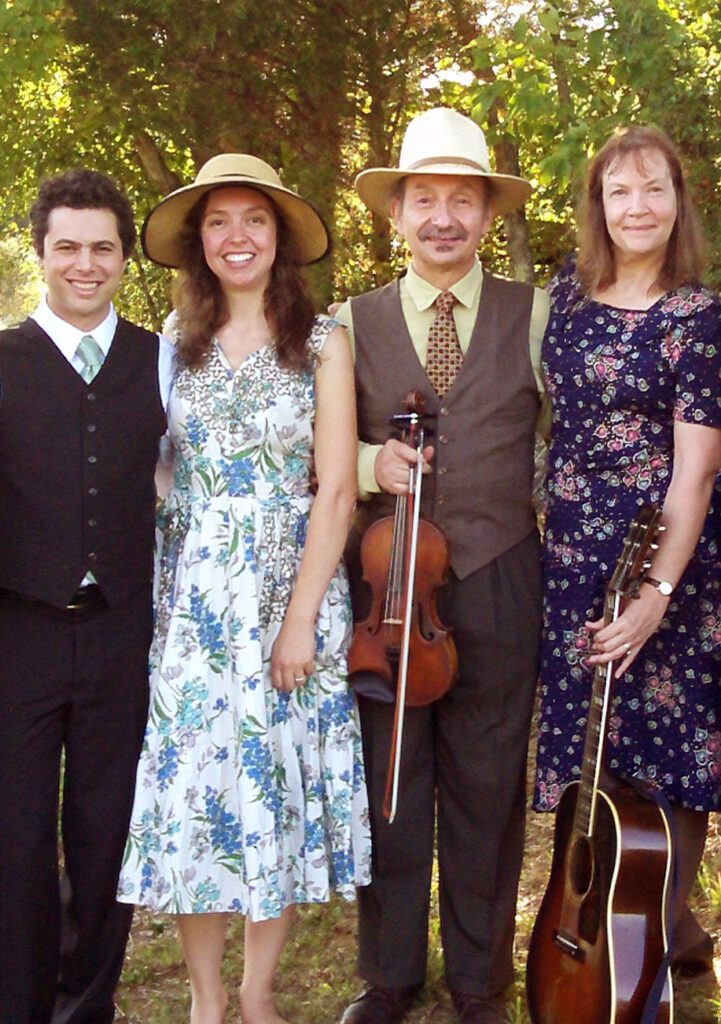 Ruth is the daughter of Jay Ungar and Lyn Hardy and besides playing with Jay and Molly she had several successful projects of her own:
Solo LP "Jukebox" in 2002
Duo Mike and Ruthy wirh her husband Mike Merenda:
Mammals: Between 2001 and 2020 the Mammals released eight albums. The band consists of Mike Merenda, Ruth Ungar and a various other musicians.
Wayfaring Strangers: On "This train" she sang along with Aoife O'Donovan, Molly Mason, Tracy Bonham
Transatlantic Session
In 1995 Jerry Douglas and Aly Bain started the Transatlantic Sesskions Project. Purpose was to combine folk music from both sides of the Northern Atlantic.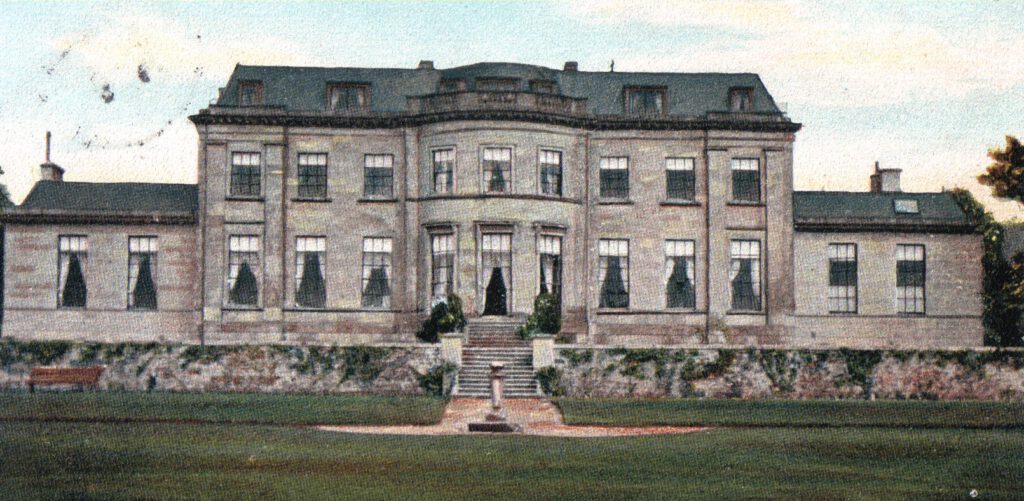 For each session a special setting was chosen, some manor where the musicians lived for the time of the recordings. Jay Ungar was part of the first Transatlantic Houseband, along with Aly Bain, Russ Barenberg, Jerry Douglas, Molly Mason, Danny Thompson and Jim Sutherland. The played behind the impressive lot of artists: Martyn Bennett, Mary Black, Guy Clark, Travis Clark, Phil Cunningham, Iris DeMent, Dick Gaughan, Emmylou Harris, Donal Lunny, Cathal McConnell, John Martyn, Kate & Anna McGarrigle, Charlie McKerron, Dougie MacLean, Karen Matheson, Kathy Mattea, Mairéad Ní Mhaonaigh, Mark O'Connor, Rod Paterson, Donald Shaw, Declan Sinnott, Davy Spillane, Savourna Stevenson, Simon Thoumire, Rufus Wainwright and Michelle Wright.
The Original First Session: More than three hours of fine music
Programme One: Wheels of Love (Emmylou Harris, Iris DeMent, Mary Black), MacIlmoyle (Aly Bain, Jay Ungar, Russ Barenberg, Molly Mason,Jim Sutherland), Ready for the Storm (Kathy Mattea, Dougie MacLean), Spencer the Rover (John Martyn, Danny Thompson), Big Bug Shuffle (Russ Barenberg), Black Diamond Strings (Guy Clark, Emmylou Harris), Guitar Talk (Michelle Wright, Karen Matheson), Ashokan Farewell (Jay Ungar, Aly Bain)
Programme Two: May You Never (John Martyn, Kathy Mattea), Big Scioty (Jay Ungar, Aly Bain, Molly Mason, Russ Barenberg, Jerry Douglas), Ta Mo Chleamhnas Deanta, (Mairéad Ní Mhaonaigh, Donal Lunny), Grey Eagle (Mark O'Connor), Talk to Me of Mendocino (Kate & Anna McGarrigle, Karen Matheson), Mexican Monterey (Savourna Stevenson, Aly Bain, Danny Thompson), By The Time It Gets Dark (Mary Black, Emmylou Harris, Declan Sinnot), Auld Lang Syne (Rod Paterson, Mairéad Ní Mhaonaigh, Martyn Bennett)
Programme Three: The Loving Time (Mary Black, Emmylou Harris, Declan Sinnott), Goodbye Liza Jane (Jay Ungar, Aly Bain, Russ Barenberg, Jerry Douglas, Molly Mason), Iain Ghlinn Cuaich (Karen Matheson, Donald Shaw), Turning Away (Dougie MacLean, Kathy Mattea), Boulavogue / Mrs McCleod (Davy Spillane, Aly Bain, Russ Barenberg), Let the Mystery Be (Iris DeMent), Wild Mountain Thyme (Dick Gaughan, Emmylou Harris, Kate & Anna McGarrigle, Rufus Wainwright), Far From Home / Big John MacNeil (House Band, Mark O'Connor, Martyn Bennett, Charlie McKerron, Mairéad Ní Mhaonaigh, Cathal McConnell)
Programme Four: Goin' Back to Harlan (Anna & Kate McGarrigle, Emmylou Harris), Daire's Dream (Davy Spillane, Jerry Douglas, Russ Barenberg), Canan Nan Gaidheal (Karen Matheson, Donald Shaw), Jim's Jig / Little Cascades / Fox in the Town (Simon Thoumire, Jim Sutherland), Farewell, Farewell (Mary Black, Declan Sinnott), Cat in the Bag (Mark O'Connor, Russ Barenberg, Donal Lunny, Danny Thompson), Our Town (Iris DeMent), Ronfleuse Gobeil (Jay Ungar, Aly Bain, Molly Mason, Russ Barenberg, Jim Sutherland)
Programme Five: I Will (Kathy Mattea, Dougie MacLean), Will the Circle be Unbroken (Michelle Wright, Iris DeMent, Mairéad Ní Mhaonaigh), You Low Down Dirty Dog (Jay Ungar, Aly Bain, Russ Barenberg, Jerry Douglas, Molly Mason), Gentle Annie (Kate & Anna McGarrigle, Rod Paterson), Jesse Polka (Mark O'Connor, Phil Cunningham, Russ Barenberg, Donal Lunny, Danny Thompson), Green Rolling Hills (Emmylou Harris, Mary Black), The Dark Woman of the Glen (Cathal McConnell, Aly Bain, Phil Cunningham, Russ Barenberg), Big Muff (John Martyn, Danny Thompson)
Programme Six: Hard Times (Kate & Anna McGarrigle, Rufus Wainwright, Emmylou Harris, Mary Black, Karen Matheson, Rod Paterson), MacCrimmon's Lament (Martyn Bennett), Dublin Blues (Guy Clark, Karen Matheson), Sweet is the Melody (Iris DeMent), A Maiden's Prayer (Aly Bain, Jay Ungar, Molly Mason, Russ Barenberg, Jerry Douglas, Jim Sutherland), Don't Want to Know (John Martyn, Danny Thompson), For No One (Emmylou Harris, Dave Spillane), Scotland (House Band, Mark O'Connor, Martyn Bennett, Charlie McKerron, Mairéad Ní Mhaonaigh, Cathal McConnell)
Programme Seven: Old Fashioned Waltz (Emmylou Harris, Kate & Anna McGarrigle), Clyde to Sandyhook (Savourna Stevenson, Aly Bain), Dark as a Dungeon (Guy Clark, Rod Paterson), The Lover's Waltz (Molly Mason, Jay Ungar, Aly Bain), Both Sides the Tweed (Dick Gaughan, Emmylou Harris), The Reasons Why I'm Gone (Michelle Wright, Karen Matheson), Uncle Sam / Rain on Olivia Town (Jerry Douglas), This Love Will Carry (Dougie MacLean, Kathy Mattea)