Allthough there are some rather explicit lyrics you won't find too many songs by white country artists that deal with Roosevelt's New Deal. New Deal is regarded as the main (some may say only) period in US history where left ideas prevailed and dominated the State economy strategy.
https://en.wikipedia.org/wiki/New_Deal
So it's quite interesting how the commercial apolitical country music would react to the great depression of 1929 and the remedy, the New Deal.
While there are a lot of songs (like Woody Guthrie's) about the social disasters of 1929 only a few mainstream country acts directly praised Roosevelt and his politics.
(All thoughts starting here are taken from Gregory Reish: The NRA Blues, in: MA Jackson: The honky tonk on the left)
Fiddlin John Carson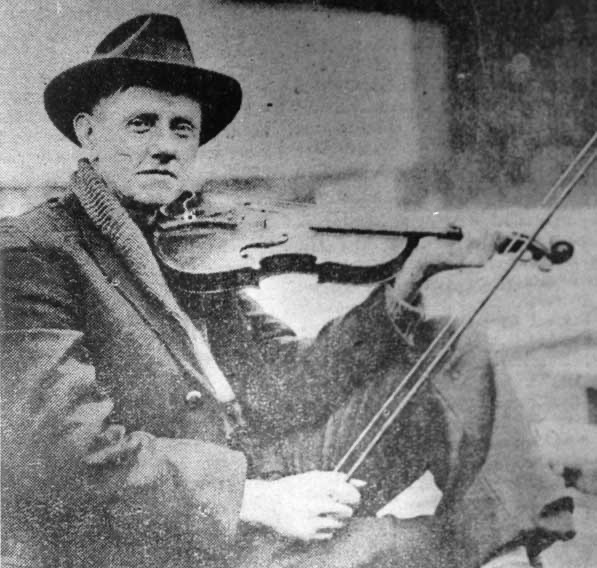 It's most likely that you stumbled across his name telling you that he was the first person ever to record a country song. On June 19, 1923 he recorded "The Little Old Log Cabin in the Lane" and "The Old Hen Cackled and the Rooster's Going To Crow.". The first thing I read was that he had been a member of the Klu Klux Klan. Both is true – nevertheless it was his song "The honest farmer" that recorded in 1925 and told about the hard life of a cotton farmer. In 1934 he rerecorded the song and added a praise of the New Deal as the last verse.
HONEST FARMER or BOLL WEEVIL
I saw an honest farmer,
His back was bending low.
Picking out his cotton.
He couldn't hardly go.
He piled it up in rail pens
Until the merchant come.
That he might take their cotton
And he might pay them some.
Goodbye, boll weevil,
You know you've ruint my home.
You know you've got my cotton
And the merchant's got my corn,
I saw him in the summer,
'Twas hot as it could be.
Strolling through the harvest field.
The sweat was running free.
He flang the cradle round him.
And gripped the golden grain.
Drew forth his handkerchief
And wiped the sweat again.
His footsteps they growed weary
As he marched up the hill.
Reached the little cabin
And sot upon the sill.
His wife she knelt beside him.
Her hair turned silvery gray.
Trust now in the Savior.
We'll find a home some day.
Some additional information on the man – seems to be necessary: https://iamthemountain.org/2019/08/02/okeh-okay-but-fiddlin-john-carson-was-the-devil/
Bill Cox
Although he recorded 150 sides (mainly between 1929 and 1932) he died in poverty living in a converted chicken shack in Charleston in 1968, shortly after being found by country music scholars and after recording a new album for Kanawha Records.
Best known in our context is his N.R.A. Blues. The National Recovery Administration was founded to put Roosevelt most progressive economy plans into live. Would gave Cox the bluesy feelings is not known. He might have called it NRA Hymn.
NRA Blues
I work own in the 'ol sweat shop
Sweet thing, sweet thing.
I work down in the 'ol sweat shop,
Work like a mule and never stop.
Sweet thing, yes baby mine.
When you're working for the NRA,
Sweet thing, sweet thing.
When you're working for the NRA,
You'll get short hours and get same pay.
Sweet thing, yes baby mine.
I've got the blues,
I've got them NRA blues.
Lord, I got them NRA blues.
The rich men's all on easy street,
Sweet thing, sweet thing.
The rich men's all on easy street,
And the poor man can't get enough to eat.
Sweet thing, yes baby mine.
When you all join the NRA,
Sweet thing, sweet thing.
When you all join the NRA,
We'll all feel happy and all feel gay.
Sweet thing, yes baby mine.
I've got the blues,
I've got them NRA blues.
Lord, I got them NRA blues.
This song was originally posted on protestsonglyrics.net
Two other songs praised Roosevelt in an even more direct way:
George Davis
Davis was coal miner, he worked as a folk singer and later as a radio dj until 1969, even turning to rock ´n roll in the fifties. https://en.wikipedia.org/wiki/George_S._Davis
In 1935 the Supreme Court killed the NRA as illegal. Davis who had been a union man and Roosevelt supporter lamented this in his song "Death of the blue eagle". The blue eagle was the symbol of the NRA.
The other day my paper came
I set and scratched my head
While turning through its pages, boys
Here is what I read
"The blue eagle he is ailing"
The little writer said
But when he finished writing
That eagle he was dead
Now there's a man in Washington
Roosevelt is his name
And how he's a-mourning o'er that bird
It is an awful shame
He told Hugh S. Johnson
And Johnson said, "Mine God"
What can the miners ever do
Without their blue mascot?
The eagle went down shouting
Hurray for one and all
But most folks couldn't take it
They had to let it fall
They took him to the graveyard
In the merry month of May
Said, "Who will solve our problems now
There's no NRA?"
But we have an order, boys
The UMW of A
And we must all stick to it
Until the judgment day
Allen Brothers
https://en.wikipedia.org/wiki/The_Allen_Brothers_(American_duo)k
The Allen Brothers have a history of label restrictions. Columbia put out their "Bow Wow Blues" in their "Race Music" series. Because of the resulting poor sales they left for Victor Records where they were produced by Ralph Peer. Peer only allowed them to record up-tempo songs which limited they musical possibilities. In the 60s they were rediscovered by the folkies.
New Deal Blues
https://www.amazon.com/New-Deal-Blues/dp/B00VJSZLHO
They had released songs about working class struggles before and in 1934 they recorded the "New Deal Blues".
The song is interesting for connecting the New Deal to some devine plan. "I'm thankful to the Lord for sending us a brand New Deal". A move Roosevelt had done too. "He likened the evils of the depression to those created by corrupt authoritarians in both the Old and the New Testaments" (Reish, p. 35).
Milton Brown
Milton Brown has been nicknamed the "Father of Western Swing" and perhaps he would have had a nice career hadn't he died in a car accident at the age of 33 (no comparison intended).
https://en.wikipedia.org/wiki/Milton_Brown
There are some points that I find interesting about his song "Fall in line with gehe NRA":
Although it was a very popular song wirh his audience he didn't record it.
The song was so popular on Brown's radio show that one on Brown's sponsors, a local funeral home included the lyrics on ots promotional flyers.
Milton Brown's band is considered to be a microcosmos of Roosevelts ideas: shared governance, agreeable working conditions and communal finances.
Roy Acuff
In 1935 Roy Acuff included a song into his program that dealt with Roosevelt social security programs: Old Age Pension Check.
When our old age pension check comes to our door,
We won't have to dread the poor house anymore.
Though we're old and thin and gray,
Good times will be back to stay,
When our old age pension check comes to our door.
When her old age pension check comes to her door,
Dear old grandma won't be lonesome any more.
She'll be waiting at the gate,
Every night she'll have a date,
When her old age pension check comes to her door.
Grow a flowing long white beard and use a cane,
'Cause you're in your second childhood, don't complain.
Life will just begin at sixty,
We'll all feel very frisky,
When our old age pension check comes to our door.
Powder and paint will be abolished on that day,
And hoop skirts will then be brought back into play.
Painted cheeks will be the rage,
And old maids will tell their age,
When their old age pension check comes to their door.
All the drug stores will go bankrupt on that day,
For cosmetics, they will all be put away.
I'll put a flapper on the shelf,
Get a grandma for myself,
When her old age pension check comes to her door.
There's a man that turned this country upside-down
With his old age pension rumor going 'round.
If you want in on the fun,
Send your dime to Washington,
And that old age pension man will be around.
But if you're undecided, boys
And don't know what to do
Just think how much a ton you got
In nineteen thirty-two
New Lost City Ramblers
In 1959 the New Lost City Ramblers (Tom Paley, John Cohen, and Mike Seeger) released an album of Songs From The Depression on Folkways.
https://folkways.si.edu/the-new-lost-city-ramblers/songs-from-the-depression/american-folk-historical-song-old-time-struggle-protest/music/album/smithsonian
Included are two songs 8 have mentioned before:
As I've said at the start: there were only a few white mainstream artists addressing the New Deal issue. Guido van Rijn listed 349 songs related to FDR in his book "African American Blues and Gospel Songs on FDR".
And some reading recommendations to finish:
https://historynewsnetwork.org/article/42602